Connecting Students To Affordable Educational Opportunities Globally
Apply for free education and scholarship-based end-to-end admission to international educational institutions through our common application platform, which makes the application process easy, fast, and affordable.
Apply for Admissions
Increase your chances of getting a scholarship to study abroad by more than 95%
Register for the Standyou Scholarship Assistance Program to make your profile fit for international scholarships, grants and financial aid for higher education with the help of our scholarship experts. We analyse the data to enhance your chances of winning.
Register for the Program
Standyou Scholarship Assistance Program
Profiling
Student profiling on 150+ data points is conducted by our data mining experts through 1:1 live video sessions. Our data mining experts record and analyze your data to help you get your personalized scholarship report ready..
Scholarship Report
Personalized scholarship report drafted by our experts, who have over 10 years of experience in scholarship disbursement and bursaries. Our scholarship matching algorithm and the team of scholarship consultants prepare your personalised scholarship report, which gives you an edge over your competitors.
Scholarship Report Analysis Session
1:1 Live Video Session with scholarship experts and scholarship winners. The expert will help you make your profile fit to get the scholarships. The expert will guide you about academic grade requirements, test requirements, test preparation strategies, writing SOP, getting LOR, essays, CVs, assistance in getting publications, visa requirements, and documentation.
Application & Documentation
The scholarship report and our scholarship expert will help you in writing your world-class, globally accepted SOP and essay based on your profile. The team of experts will also help you with the university and scholarship application processes. be notified about every document and deadline.
How Standyou Scholarship Assistance Program Works
01
Signup/Login & complete your Standyou Scholarship Assistance Program profile.
02
Book your profiling session and complete your profiling session through 1:1 Live Video Sessions.
03
Order your personalised scholarship report & book report analysis session
04
Complete your report analysis session with our scholarship experts through 1:1 Live Video Sessions.
05
Follow your report to make your profile eligible for the scholarship, Apply for the recommended scholarships and get admitted to your dream college at no cost.
Read More
Standyou Scholarship Based End-to-End Admission Platform
Data driven Platform
Our common application and data-driven platform help students select public universities and course programs with scholarships, based on their academic and financial profile.
Free or Affordable Course Program
Complete application processing for the free or affordable course programs available globally for higher education. We help students get admitted into scholarship based international educational institutions.
End-to-End Admission Assistance
Our common application platform and the team of experts make the application process easy, fast and affordable by proving end-to-end admission assistance.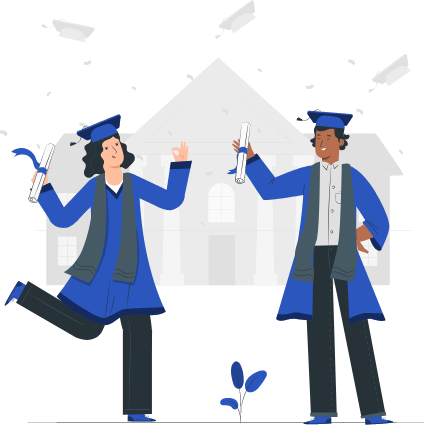 How Standyou Scholarship Based End-to-End Admission Platform Works
Search For The Right Course Program And University
Our AI-enabled platform helps students in finding the globally available best course programs And universities offering scholarships as per their educational interests, scores, profile And financials.
Fill out The Common Application
Sign up to apply for your selected universities and programs by filling out the online profile. pay the application fees if any. submit the required documents.
Our End-To-End Application Assistance
Our team of experts will help you in application processing, scholarship documentation, standardized test preparations, writing SOP, getting publications, LOR, interview preparations, visa and other applicable formalities.
Book Tickets And Fly
After receiving the university acceptance letter and visa you are all ready to start the journey to fulfil your career dreams.
Standyou at Glance
15+ Study Destinations & 3,000+ Institutions
20,000+ Course Programs & 50,000+ Scholarships
Scholarships & Grants Worth $ 8 Billion
800+ Scholarship Admission Processed
2,500+ Scholarship Sessions Conducted
The Scholarship Success Rate of 95%
External Scholarship Worth $ 10 Million Awarded
Standyou in News
(Our Media Presence)
© 2023 Standyou Data Info Labs Private Limited.